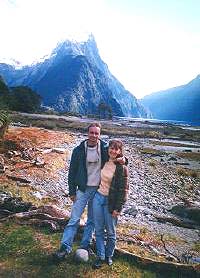 'NewZealand was fantastic. Thank you Imagination Destinations for making our honeymoon so memorable' Steve & Gail.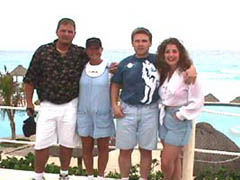 'The four of us had a incredible time. We'll be back again next year.'
Carolyn, Jason, Annie & Harwin.
Family Vacation in Maui:
"Judi, I just wanted to thank you again for planning such a wonderful trip in so short of time. You did a fabulous job with the travel arrangements. I can't believe how perfect it was meeting up with my mom and sister in L.A. then off to Maui.
I highly recommend your services to anyone traveling. You are
amazing. I look forward to my next adventure.
Thank you,"
Susan, Earlville, IL
ITALY:
Judi,
Just a quick note of thanks for the terrific job you did you us on the Italy Saga. I'm sure Kiersty will give you some of the details that added to the "interest" of the trip, particularly the input received from our Italian family members re some of the arrangements. Without exception, you were right on target.
From my perspective, if the plans hadn't been so good and the hotels so accommodating...it would have been a disaster traveling with a 15 month old toddler. As it turned out he was the only one who didn't really "lose it" on the trip. The rest of the adults each had a moment or two of glory during the travel process, but, of course, that's to be expected.
The hotel in Sienna was fine, but the staff...not so friendly or helpful. The others were either very good, or just plain excellent. The Antica Roma surprised us...as did Rome. We really enjoyed it there including a Trattoria the hotel recommended just down the street. The food, service and atmosphere was the best. They treated Elijah like a little king.
We made all our flights, had good cars, enjoyed the trains...and loved the private transfers! It was terrific to have the van driver in Rome show up about 15 minutes early, and then whisk us out of town to the airport.
Very best, and Happy Holidays!
Karl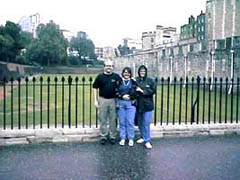 'My mother wishes to thank you for organizing our trip to see her. Thanks Imagination Destinations!'
Pam & John.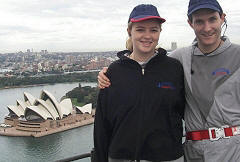 'Sydney was fantastic. Thank you so much for organizing the holiday to Australia'
Glenn & Amy.
Incentive Program in Maui:
"Hello Judi, Thanks for a wonderful time from our Group. They were all pretty happy.
Aloha. and once again we appreciate everything."
Evelyn, Claas Omaha Company
ISLAND HOPPING IN HAWAII:
Hi Judi! Just realized I never sent you a note that we made it home again ok. I'm wishing I were still in Hawaii though. Had a GREAT time and didn't want to come back.
Thanks for setting everything up and handling the frantic "we're gonna miss
the ferry" call! They did indeed wait for us and after that it was very smooth. The Lodge and Manele Bay were beautiful and great places to stay, I'm glad you recommended them. Oh and thanks for the champagne, that was
really nice! The Lodge sent a fruit and cheese tray with the champagne which
was really great since we missed lunch running for the ferry :). Dinner at Manele was delicious, we went into town a little but ended up mostly dining
at the resorts or at the golf clubhouse. Tom played both courses while I hiked around and hung out on the beach. The only downer was that when we went to rent a 4 wd to explore, we found out that most the roads were closed because of all the rain, they were washed out. So we didn't rent a car, we
hiked around instead. I'll send you some photos when we get a chance to download them all off the camera. Thanks again, we had a great time!!
Stephanie Walker, Houston, TX